"Zippy the Pinhead: The Musical"
NOW AVAILABLE ON iTunes. 19 songs, from the Overture to "Don't Goad the Toad" to "Pinhead Love". All songs by Lorraine Whittlesey. YOW!!
READ an appreciation of "The Family Circus" cartoonist Bil Keane (1922-2011) by B.G. in the Comics Journal.
HEAR an entertaining interview with B.G. by Richard Roth - all about Griffy's career in comics - on NPR.
Cartoonist PROfiles piece by R.C. Harvey on B.G. and Zippy's 25th anniversary in daily syndication, with lots of graphics at the end.
See the Bill Griffith cover for jazzman Ken Peplowski's latest CD.
Article in the Boston Globe by Jane Roy Brown on Zippy's forays into the diners & other mysteries of Massachusetts!
Highly recommended: Master Cartoonist Justin Green's blog---check back often!
HEAR a 12/20/10 NPR interview with Bill Griffith. (click "Listen" below photo of B.G. on new page)
"The Condiments Song" from "Zippy the Pinhead: The Musical" (Private Sector/Baltimore, Nov. 2010).
"Obama-Lama-Ding-Dong" T-shirt!
"Barack to the Future". (original style still available)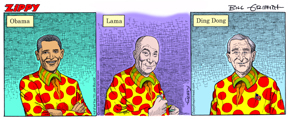 OBAMA-LAMA-DING DONG image above also available as a Giclee Signed Print! 11" by 17" heavy paper, archival inks, signed by Bill Griffith.
HEAR the in-studio BBC interview with Bill Griffith (& Garry Trudeau).
Full Color Giclee Signed Prints of ZIPPY SUNDAY STRIPS!
Now only $65.00.
AVAILABLE FOR ALL ZIPPY SUNDAY STRIPS FROM 1999 TO CURRENT DATE:
Large size, Ultrachrome Prints on 140 lb. acid-free Fabriano paper, using archival, lightfast inks.
Go to any Sunday strip by date or contact us with a description of the strip
ZIPPY SIGNED PRINT:
"Zippy's Comic Book Collection"
30 little covers, one BIG Giclee print.
This is a Limited Edition.
Large Giclee Signed Print: "Zerbina Resplendent". Limited Edition.
CONTACT US here with any questions or comments.
EXTENDED SALE! ALMOST ALL ZIPPY BOOKS 25% OFF!!
More sale books under "Zippy Annuals", including latest Zippy book!
PROMO for Zippy book: WELCOME TO DINGBURG.
Zippy videos on YouTube:
Bill Griffith interviewed in his studio on YouTube.
NEW: Zippy for President Signed Print. Full color, Heavy stock.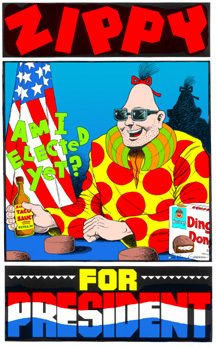 NOTE: The image of "Today's Strip" (click DONUT above) is now BIGGER and IN COLOR! (Click the "Zoom" icon on new page for BIG size)
"WELCOME TO DINGBURG" T-shirts! Also: Zippy Valentine's Day Cards, Birthday cards & NEW Mrs. Gowanus, Doggie, "Little Zippy" T-shirts, mugs & more.
NEW ZIPPY T-shirts! PLUS--LOTS of BRAND NEW Zippy swag available at zazzle.com! New Zippy tote bags, magnets, ties, bumper stickers, postcards, real U.S. Postage & more (click animated link at right!).
---
ARCADE #5 (Jay Lynch cover). Mint condition. $25.00
---
The Lost Tunes:
2 New Zippy Songs, ready to download!!
---
---
Did you know Bill Griffith co-created "Wacky Packages" in the 1970s?
(And he worked on the current "Wacky Packages Old School" sketch cards series 2 & 3--check them out on ebay.)
---
LOTS OF NEW ART in both Zippy Original Art Galleries-- now available!