Zippy encounters a large cast of roadside characters in his ongoing cross-country road trip. From Long Island's "Big Duck" to the Giant Hand Car Wash on L.A.'s Ventura Blvd., Zippy has something meaningful to say to every outdoor icon he meets--and they're all happy to talk back!!
Choose from the list of Zippy Roadside strips below, organized by State.
Click on the city or town listed to see the strip. Who knows? Zippy may have already visited a Giant Being somewhere in your own neighborhood!
ALL STRIPS ARE AVAILABLE AS EITHER BLACK-&-WHITE, SIGNED PRINTS ($55.00 each, includes shipping) OR AS HAND-COLORED, SIGNED PRINTS ($155.00 each, includes shipping).
For INSTANT PURCHASE using your credit card or check, go to ZIPPY STOREFRONT
ORIGINAL ART to strips may be available. Go to: ZIPPY STOREFRONT
For availability and price, contact: griffy@zippythepinhead.com
Specify TITLE and/or date of strip.
Want to see your favorite local icon in a Zippy strip? Send photos with location information (multi-angle shots are always best) to Bill Griffith c/o:
Pinhead Productions • P.O. Box 88 • Hadlyme CT 06439
Or send digital photos to : griffy@zippythepinhead.com
All photographers whose photos are used receive a coveted "Tip O' Th' Pin" inside the printed strip!
MORE LOCATIONS AND STRIPS BEING ADDED DAILY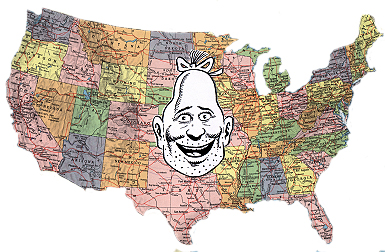 ARIZONA
CALIFORNIA
• Burlingame/ Hiway 101 ((Western Exterminator's "Little Man")
• Clear Lake (Self-Decorating Hot Dog)
• Davis (U.C. Davis campus/ Robert Arneson EggHead sculpture)
• Garberville ("Legend of Bigfoot" shop
• Los Angeles (Johnie's Restaurant)
• Oakland ("American Gothic" statues)
• San Francisco (Musee Mecanique)
CANADA
• Nova Scotia (Scarecrow Village)
• St. George, New Brunswick (Blueberry stand)
COLORADO
• Colorado Springs (King's Chef Diner)
CONNECTICUT
• Waterbury (Easter Island Head/ Timex Museum)
• Portland (Top Dog hot dog stand)
• Hadlyme (Hadlyme Country Store)
DELAWARE
FLORIDA
• Orlando ("Push" Office Building)
ILLINOIS
• Collinsville (Big Ketchup Bottle)
• Springfield (Famous Liquors Pink Elephant)
INDIANA
• Indianapolis ("Crazy Mickey" Billboard)
IOWA
IRELAND
JAPAN
•Tokyo (Street Statue in Ginza District)
KANSAS
• McPherson (Giant Chimney Sweep)
MARYLAND
• Baltimore (Sip & Bite Rest.)
• Baltimore (Captain James Rest.)
• Cockeysville (Andy Nelson's Barbecue)
• Westminster (Traynor's Carpet store)
• Ellicott City (Enchanted Forest)
MASSACHUSETTS
• Mattapoissett (Giant Seahorse)
• Mt. Holyoke ("Southern Gentleman" Motel statue)
• Pittsfield (Ship in parking Lot)
• Wareham/Bourne (Calamity Cove Mini Golf)
• W. Tisbury (Martha's Vineyard) (Tom Maley statues)
• Worcester (Miss Worcester Diner)
MICHIGAN
• Hamtramck (Kowalski's Sausages)
MINNESOTA
• Nevis (World's Largest Tiger Muskie)
MISSISSIPPI
• Jackson (Mississippi Coliseum)
MISSOURI
• Kansas City (Charlie Parker Head)
MONTANA
NEVADA
• Las Vegas (Serge's Wigs & Jiffy Smog)
NEW HAMPSHIRE
NEW JERSEY
NEW MEXICO
• Albuquerque (Dog House restaurant)• Farmington (Muffler Man)
NEW YORK
• Flanders, Long Island (The "Big Duck")
• Syracuse (Doc's Little Gem Diner)
NORTH CAROLINA
• High Point (Giant Chest of Drawers)
NORTH DAKOTA
• Carrington (Indian/Muffler Man)
OHIO
• Newark (Longaberger Basket Headquarters)
OKLAHOMA
OREGON
PENNSYLVANIA
• Oil City (Fast and Fresh Food Store)
• Pittsburgh (PPG Building plaza)
RHODE ISLAND
SOUTH DAKOTA
• Crazy Horse (Crazy Horse Monument)
TEXAS
UTAH
VERMONT
• Gainesville (Pipe Man/ Fast Fabricators)
• Natural Bridge (Big Hand/Enchanted Castle)
WASHINGTON
• Seattle (Experience Music Project building)
• Seattle (Hat & Boots Gas Station)
• Fremont ("Missile" restaurant)
WEST VIRGINIA
WISCONSIN
• Sparta (FastCorp/ Giant fiberglass statuary)